Free Eco-Adventure for Dads this June at Orange Jeep Tours in Ave Maria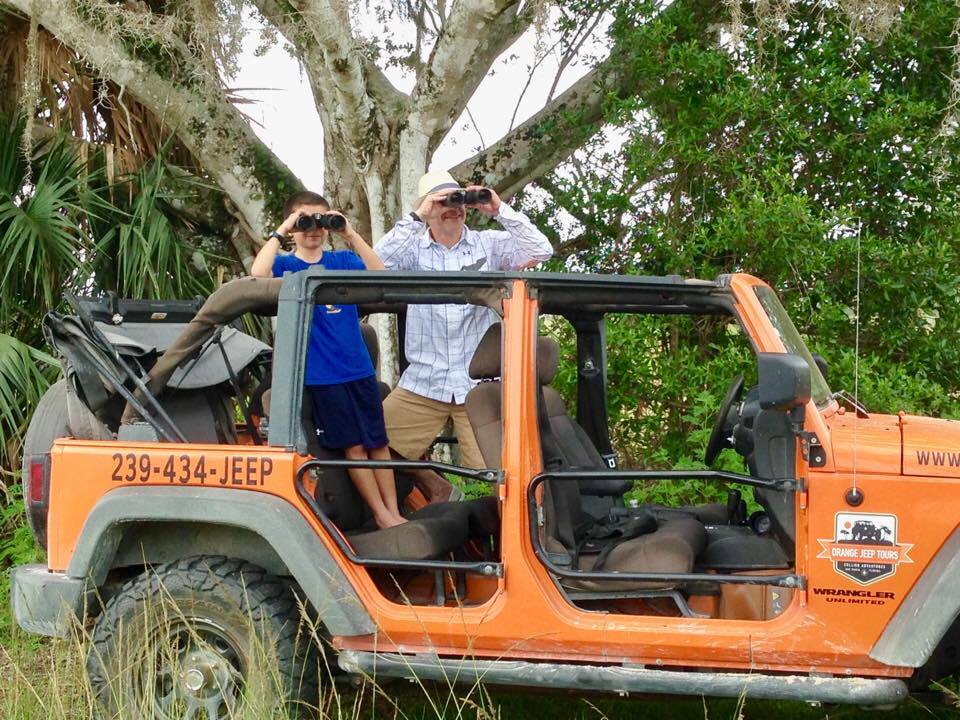 Orange Jeep Tours in Ave Maria invites all dads and grandfathers to enjoy a free eco-adventure tour during the month of June. An Orange Jeep Tour is the perfect gift to enjoy together and all dads will enjoy a free Orange Jeep Tour with an accompanying paying child. Ninety-minute tours depart from the Ave Maria Information Center beginning at 8:00 a.m., Tuesday through Sunday. Ticket prices are $25 per child 12 and under, and $35 per adult. This offer is not to be combined with other discounts or offers. Schedule is subject to change.
A top rated tour on Trip Advisor, Orange Jeep Tours offers 90-minute tours of environmentally-protected terrain inhabited by such native wildlife as the American alligator, Whitetail deer, Osceola turkey, Florida Red-Bellied turtle, and a large variety of bird species. Each custom-outfitted orange Jeep can seat up to six passengers plus the driver. Passengers are treated to a narrated history of the local region and a thumbnail education of Florida agriculture. Visit the Ave Maria Town Center before or after your tour for lunch, shopping, and a tour of this beautiful community.
Orange Jeep Tours was created in 2012 by Collier Adventures as eastern Collier County's newest eco-adventure outfitter. Engaging narrated tours of local history and southwest Florida wildlife in an off-road, open-air Jeep provide an enjoyable outdoor pursuit for residents and visitors. The Orange Jeep Tours Information Center is located in the Ave Maria Town Center at 5076 Annunciation Circle #104, Ave Maria, FL, 34142. For more information, please contact 239-434-JEEP (5337) and visit www.orangejeeptours.com.
For information, contact: Andrea McLendon 239.248.7346 or amclendon@comcast.net