Grand Opening of So Balling Sportswear in Ave Maria Town Center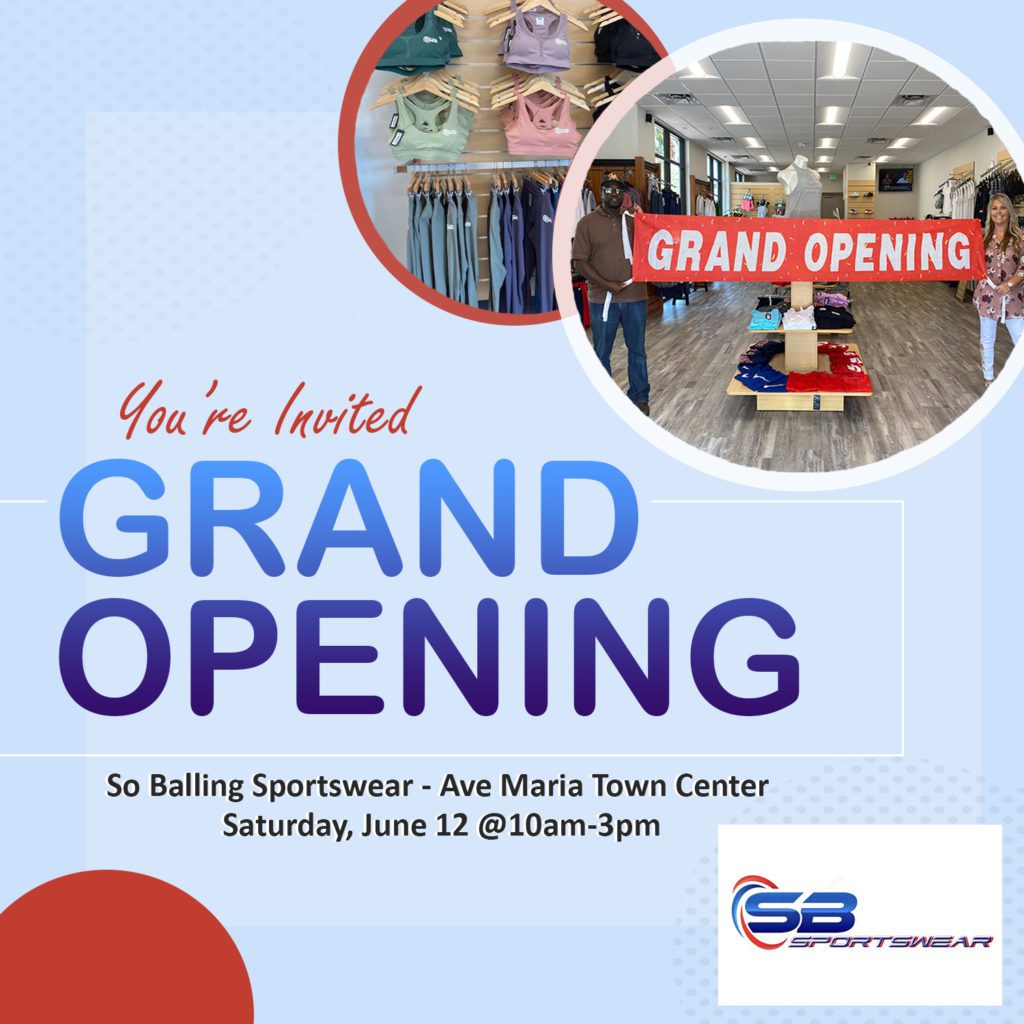 A new sportswear store is now open in Ave Maria's Town Center! Everything you need from workout and golf attire to sports and fitness equipment can be found at So Balling Sportswear. While sports seasons change so does So Balling's inventory, specializing in pickleball in the summer and youth attire during the school semesters. Stop in and check out all the So Balling merchandise and apparel today or at their Grand Opening celebration on Saturday, June 12th from 10:00am to 3:00pm.  
Ave Maria residents Christina Zibell and her fiancé Adrien Harris saw a need for a local sports store when noticing how many residents played pickleball, golf, and basketball, but did not have anywhere to shop locally for fitness clothing and equipment. This motivated them to open So Balling Sportswear to fill those needs and build a tighter community of sports lovers in Ave Maria. 
Another way Christina and Adrian are impacting the community is by starting Ave Maria Youth Sports. Sports have always been important to Christina and Adrien and they wanted to share this passion with their kids as they grew up. "It's a really good way to engage youth and get them involved in the community. We try to do anything we can for kids who don't have any other outlet for sports." This summer Ave Maria Youth Sports will have an NFL flag football league for girls and boys ages 5-17. So Balling will be hosting combine at Ave Maria North Park on Saturday, June 19th starting at 10am for parents and players. Sign up spots are filling up quickly so make sure to register online if interested at AveMariaYouthSports.com. Coaches and volunteers are needed as well. 
So Balling Sportswear will have its Grand Opening on Saturday, June 12th from 10:00am to 3:00pm and all are welcome to attend and support! Sign-ups for the NFL flag football league can also be done at So Balling Sportswear's Grand Opening.