TERIYAKI MADNESS TO OPEN IN AVE MARIA TOWN CENTER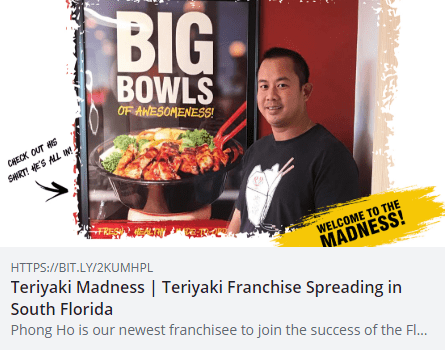 FOR IMMEDIATE RELEASE
For information, contact:  Andrea McLendon 239.403-6775 or amclendon@barroncollier.com
AVE MARIA, FLORIDA, — September 16, 2019— Ave Maria Development announces a brand-new restaurant, Teriyaki Madness, has signed a lease for 2,500 square feet in the Ave Maria Town Center. Teriyaki Madness is a fast-casual Asian restaurant concept with over 60 open locations in the United States. The menu features made-to-order Teriyaki dishes prepared with all-natural ingredients and served quickly in a fun and relaxed atmosphere, according to the company website. The new location in Ave Maria will be operated by Phong Ho, an Ave Maria resident and operator of the Tropical Smoothie franchise in Ave Maria.
"I have been looking for an Asian concept restaurant to bring to Ave Maria for quite some time," states Phong Ho. "Ave Maria is growing so rapidly that we need another restaurant, especially with a unique menu. I am a big fan of Teriyaki Madness and the customizable options for all the menu items. We can cater to food allergies as all our sauces are gluten free, high protein diets, and vegetarian preferences." The restaurant will seat approximately 40 patrons inside and include outdoor patio seating.
"Phong Ho has been a successful restauranteur in the Ave Maria Town Center for more than 10 years," adds Cee Cee Marinelli, director of commercial leasing for Barron Collier Companies, the co-developer of Ave Maria. "He is well-known in the community, is a positive supporter of Ave Maria, and knows the restaurant business. We are thrilled to see him expand with the new Teriyaki Madness concept."
Teriyaki Madness was founded in 2003 and was recognized by Entrepreneur Magazine as a Franchise 500 company. Teriyaki Madness is anticipated to open in early 2020 in the Ave Maria Town Center at 5072 Annunciation Circle, Suite 103. More information can be found online at www.teriyakimadness.com.
ABOUT AVE MARIA & DIRECTIONS
Ave Maria has been named the number-one selling community in Collier County for the past five years, Collier County's Community of the Year for the past four years, a Top 35 Master Planned Community in the United States and its active adult community, Del Webb Naples, has been named a Top 20 Places to Retire. Located in Southwest Florida, minutes from the beaches and cultural attractions of Naples, Ave Maria is a self-sustaining town including highly-rated schools, shopping and dining, employment opportunities, parks and recreation, and more.  At its build out, the town may include up to 11,000 residences, and 1.7 million square feet of retail, office, and business park uses in its 4,000 acres. Braden Hospital, a planned hospital for the community of Ave Maria, has received its state approvals to move forward. Ave Maria is located at the intersection of Oil Well and Camp Keais Roads in Eastern Collier County.  The main entrance, on Oil Well just west of Camp Keais, leads to the Town Center. Take I-75, exit 111, follow the signs east to Ave Maria, approximately 20 minutes. For more information, please visit www.avemaria.com or call 239-352-3903.
ABOUT TERIYAKI MADNESS:
Teriyaki Madness, a fast-casual teriyaki shop concept, is committed to unconditionally satisfying guests by offering delicious, made-to-order Teriyaki dishes prepared with fresh, all-natural ingredients served quickly and at a reasonable price in a fun, relaxed atmosphere. The simple menu lets guests choose their protein, type of rice or noodles and desired vegetables for a fully customizable bowl made as healthy as the customer wants. The brand is dedicated to "Spreading the Madness" so everyone can experience the best teriyaki on earth. Teriyaki Madness was recently recognized among Entrepreneur Magazine's Top Food Franchises of 2019 and was named one of FastCasual's 2019 Movers and Shakers. Founded in 2003, the brand currently has franchise agreements in place for nearly 150 shops across the U.S. and offers franchising opportunities to qualified single and multi-unit candidates nationwide. For more information, visit www.franchise.teriyakimadness.com or email franchise@teriyakimadness.com.
###