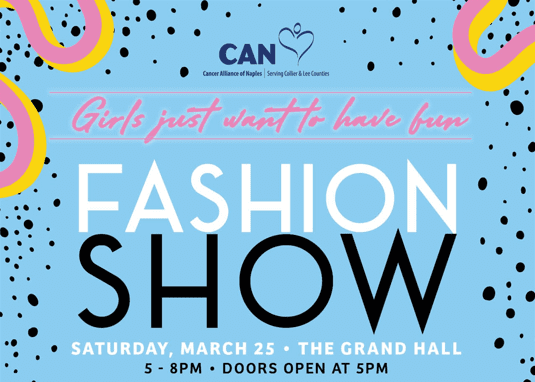 'Girls Just Want to Have Fun' Fashion Show
'Girls Just Want to Have Fun' Fashion Show {OPEN TO THE PUBLIC}
Saturday, March 25 • The Grand Hall at Del Webb Naples
5 – 8 p.m. • Doors open at 5 p.m.
Featuring men's and women's fashion apparel from Panther Run Golf Shop and elegant, comfortable, trendy women's fashion from The Secret Ingredient Boutique in Ave Maria, FL. Event proceeds benefit the Cancer Alliance of Naples (CAN), assisting children and adults battling cancer in Collier and Lee Counties.
$55 per person
Includes Fashion Show admittance and a light dinner buffet. Raffle tickets available for purchase prior to and during the Fashion Show and Silent Auction.
BYOB – BRING YOUR OWN BEVERAGES **
Space is limited. Please register online or call Del Webb Naples before March 21. Wristbands must be picked up by March 23.
Please make checks payable to Cancer Alliance of Naples and also for additional donations.
For more information, please contact Lucy Guevara at (239) 455 – 2001 or lguevara@hampton.golf
delwebbnaplescommunity.com • 6010 Del Webb Way • Ave Maria, FL 34142