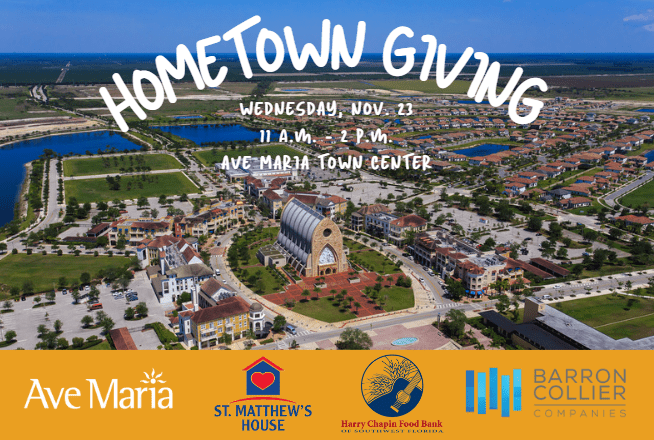 Hometown Giving
Barron Collier Companies invites the public to "Hometown Giving" an afternoon of community connection and reflection in the Ave Maria Town Center on Wednesday, November 23rd from 11 a.m. – 2 p.m. to raise funds for those affected by Hurricane Ian.
This outdoor, public get-together will include live music by bands Back Country Boys and Steinbeck Way, in addition to lunch and beverages sold by the Town Center's restaurants including Ave Maria Pub & Grill, OASIS The Kitchen Lounge and Lozano's Mexican Restaurant. Funds raised from the event will benefit St. Matthew's House and Harry Chapin Food Bank of Southwest Florida. Ave Maria businesses will also donate a portion of their proceeds to these non-profit organizations.
To learn more or to donate please visit St. Matthews House and Harry Chapin Food Bank of Southwest Florida.
Please view the event flyer for more details. 
Ave Maria is located at the intersection of Oil Well and Camp Keais Roads in Eastern Collier County.  The main entrance, on Oil Well just west of Camp Keais, leads to the Town Center. Take I-75, exit 111, follow the signs east to Ave Maria, approximately 25 minutes. For more information, please visit  http://www.avemaria.com/ or call 239-352-3903.