ORANGE JEEP TOURS DRIVES INTO ITS 8th SEASON OF EXCLUSIVE, ADVENTURE TOURS OF PRIVATE NATURE PRESERVES IN SOUTHWEST FLORIDA
FOR IMMEDIATE RELEASE
For information, contact:  Andrea McLendon 239.403-6775 or amclendon@barroncollier.com
AVE MARIA, FL- September 24, 2019 – Orange Jeep Tours welcomes guests back for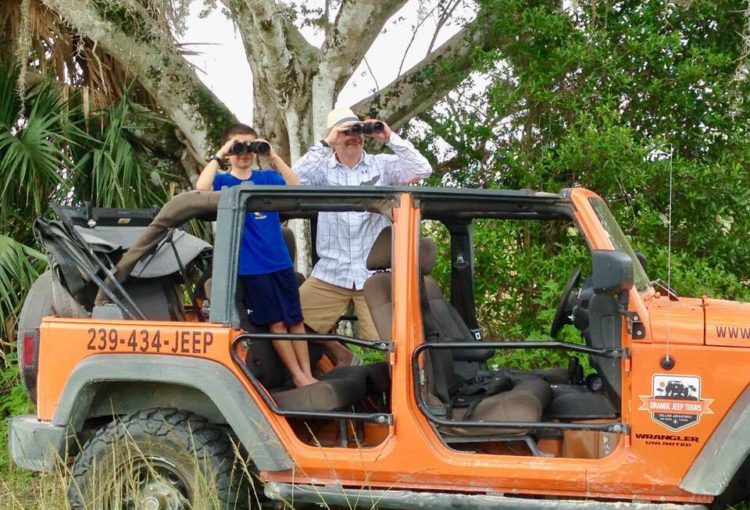 its 8th season of outdoor safari adventure in Southwest Florida. Founded in 2012 by Collier Adventures, Orange Jeep Tours offers 90-minute eco-safari tours in privately held land near Ave Maria, Florida. A top-rated tour on Trip Advisor, Orange Jeep Tours brings visitors up close to native wildlife in their natural habitat. Visitors can spot American alligators, Whitetail deer, Osceola turkeys, Florida Red-Bellied turtles, and a large variety of bird species. The custom-outfitted orange Jeep can seat up to six passengers plus the driver. Passengers experience this unique outdoor excursion highlighted with fun facts and trivia by knowledgeable adventure guides. Visit the Ave Maria Town Center before or after your tour for lunch, shopping, and a tour of the beautiful town.
"I've conducted hundreds of Orange Jeep Tours and each one is unique," comments Mike Sullivan, driver and tour guide for Orange Jeep Tours. "Sharing the Collier family private land and its natural beauty with visitors from all over the world is a spectacular experience. I've seen some amazing animals on the tours— different times of day, different times of the year—you just never know what you will see which makes my job exciting."
Orange Jeep Tours will open for its 8th season on October 1st and offer 90-minute tours departing daily from the Ave Maria Information Center from 8am to 5pm. Ticket prices are $40 per adults and $30 per child 12 and under and reservations are recommended by calling 239-434-JEEP.  Schedule is subject to change.
ABOUT ORANGE JEEP TOURS
Orange Jeep Tours was created in 2012 by Collier Adventures as eastern Collier County's newest eco-adventure outfitter. Engaging narrated tours of local history and southwest Florida wildlife in an off-road, open-air Jeep provide an enjoyable outdoor pursuit for residents and visitors. The Orange Jeep Tours Information Center is located in the Ave Maria Town Center at 5076 Annunciation Circle #104, Ave Maria, FL, 34142. For more information, please contact 239-434-JEEP (5337) and visit www.orangejeeptours.com.
###