BARRON COLLIER COMPANIES ANNOUNCES HURRICANE IAN FUNDRAISING EVENT
Funds raised will benefit St. Matthews House and Harry Chapin Food Bank
NAPLES, FL., — November 15, 2022 — Barron Collier Companies invites the public to "Hometown Giving" an afternoon of community connection and reflection in the Ave Maria Town Center on Wednesday, November 23rd from 11 a.m. – 2 p.m. to raise funds for those affected by Hurricane Ian.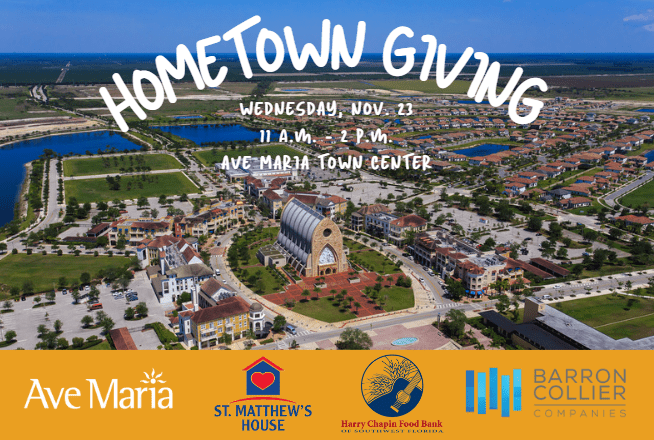 This outdoor, public get-together will include live music by bands Back Country Boys and Steinbeck Way, in addition to lunch and beverages sold by the Town Center's restaurants including Ave Maria Pub & Grill, OASIS The Kitchen Lounge and Lozano's Mexican Restaurant. Funds raised from the event will benefit St. Matthew's House and Harry Chapin Food Bank of Southwest Florida. Ave Maria businesses will also donate a portion of their proceeds to these non-profit organizations.
"The Hometown Giving event is a way to support local residents who were impacted by Hurricane Ian. St. Matthew's and Harry Chapin are two well-respected organizations in Collier County who are playing a significant role in relief efforts.   We want to help those in our community, and this event is just one small part of giving back" said Barron Collier Companies CEO, Blake Gable.
To learn more or to donate please visit St. Matthews House and Harry Chapin Food Bank of Southwest Florida.
Please view the event flyer for more details. 
Ave Maria is located at the intersection of Oil Well and Camp Keais Roads in Eastern Collier County.  The main entrance, on Oil Well just west of Camp Keais, leads to the Town Center. Take I-75, exit 111, follow the signs east to Ave Maria, approximately 25 minutes. For more information, please visit  http://www.avemaria.com/ or call 239-352-3903.
ABOUT BARRON COLLIER COMPANIES
Barron Collier Companies is one of the largest diversified companies in Florida dedicated to the responsible development, management, and stewardship of numerous landholdings.  Led by the Collier family, with roots tracing back one hundred years to Collier County, founder Barron G. Collier, Barron Collier Companies pursues its vision for Southwest Florida with successful enterprises in several areas including agriculture, land development and mineral management. For more information, please visit www.barroncollier.com or call 239-262-2600. Please visit www.barroncollier.com to learn more about Barron Collier Companies project portfolio.