FORMER MLB PLAYER, BROWARD COUNTY YOUTH BASEBALL TRAINER JOSIAS MANZANILLO FINDS HIS HOME IN AVE MARIA
Storied pitcher now helps grow youth programs in special town located between
Naples and Fort Lauderdale
Ave Maria, Florida – October 20, 2022 – Former Major League Baseball (MLB) pitcher Josias Manzanillo "Manzy" spent more than two decades playing in major cities across the country, but always chose his native Dominican Republic, and Florida, as his homebase during the off season. Today, his home is Ave Maria, a growing community in eastern Collier County. He continues to build the baseball academies he created in Broward County for promising future baseball players, while contributing his presence, support, and training activities in Ave Maria. The influence of this MLB player, together with a thriving Little League franchise, are helping to grow youth sports at this small town, less than an hour's drive from Weston.
Manzanillo spent 21 years as a professional pitcher for the Florida Marlins, Boston Red Socks, Pittsburgh Pirates, Milwaukee Brewers, New York Mets, Seattle Mariners and New York Yankees. Then, in 2011, he and his wife, Delmaris (Dee), decided to pursue their passion for supporting young players. They founded Manzy's Pitching Farm, now known as The Farm System, with facilities in Davie and Weston.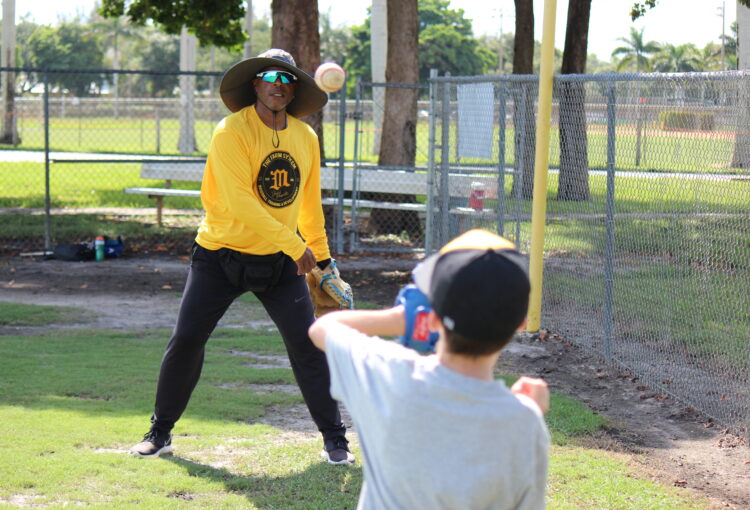 Raised by a mother who instilled in him the importance of pushing forward and never giving up, Manzanillo decided he needed to pay it forward by developing young players and teaching them the technical and mental essentials of the game. The unwavering belief his mother had in him is the same mind-set and inspiration he works to instill in his young players.
"My true passion is teaching young people," said Manzanillo, who has been training future baseball players since 2003.
In 2019, Dee, a Realtor since 2010, began hearing about a community called Ave Maria through a friend who lived there. She couldn't convince her husband to visit until the mother of one of his players mentioned the community to him.
"The moment we drove through the entrance of Ave Maria, we knew it was home," recalled the couple. They visited the area every weekend for 10 months until they found the lot and home they wanted. "It was magical." Soon after, Dee joined the sales team of CC Homes, a Codina Carr Company based in Miami and one of the builders at Ave Maria.
In May 2022, the Manzanillos moved into their new home in the Maple Ridge neighborhood. Manzanillo continues to commute to his academies in Broward County and has a growing group of private training sessions with students on Saturdays. In addition, he has been supporting the burgeoning Little League program in Ave Maria by volunteering during games and tryouts.
"Students come from all over, but many are from the east coast of Florida," he said, noting that his long-term goal is to have more time to help the community's Little League when he can.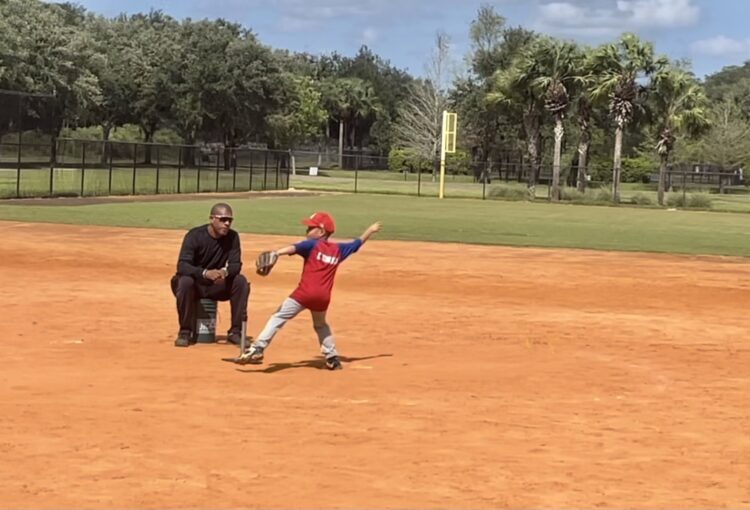 The President of the Ave Maria Little League, LaWayne Cheney, is a native of Immokalee and has lived in Ave Maria since 2012 with his wife, Jade. As the owners of Cheney Landscaping and parents of two kids interested in sports, they saw an opportunity to help build a program for kids in the town. As a result, each spring the League attracts more than 120 boys and girls, ages 6 to 14, to participate in baseball and softball. Last year, the boys 11 & under baseball team won the district championship and the 8-9-year-olds' team qualified for the tournament.
"Families from all over the country look at moving to Ave Maria and are impressed by the athletic opportunities for their kids," said Cheney. "We are proud of what we've accomplished and know the program will continue to grow future champions and baseball fans."
One of these baseball fans is 8-year-old Kalel Hernandez, whose family moved to Ave Maria in 2020 from Pembroke Pines. His mother, Dr. Ariel Hernandez, a psychologist, said her son "is obsessed with baseball" and has found Ave Maria to be the perfect training ground for him.
Her husband, Juan Hernandez, a special task force officer for the Broward Sheriff's Office, continues to commute to Broward County for his job, and their three-year-old daughter, Elle, enjoys ballet classes. They moved to Ave Maria to experience the more relaxed, safe and friendly atmosphere.  "We love the more traditional culture here," said Dr. Hernandez.
Kalel participated in the fall and spring seasons of the Little League and found it to be the perfect way to make new friends. He became the youngest player on the championship team.
Kalel, wished for more, however, and last Christmas asked Santa to bring him an MLB player. Despite Dr. Hernandez's urging to choose simple baseball cards instead, Kalel insisted, and she became worried about how to grant his wish. Luckily, through a string of introductions at Ave Maria, they found Manzanillo, who has become much more than a one-time holiday gift. Their training sessions have fueled Kalel's dream to become a pitcher, and according to his mom, "his growth has been amazing," through both baseball and life lessons.