The Ave Maria Veterans Association Flagpoles for Veterans 
How the Flagpoles for Veterans initiative formed  
As a vendor at the Ave Maria Farmer's Market, the Veterans Association sold flagpoles and wall-mounted flags to raise money for the group. Veterans would donate their time and install flagpoles for those who purchased. Soon, they quickly realized the interest the town had in the flagpoles. 
"We just love the fact that people of Ave Maria are so patriotic," shared Tom Schlessinger, vice president and founding member of the Ave Maria Veterans Association. 
After his career in the aero-space industry, Tom knew that he wanted to retire in the town of Ave Maria, Florida. "We love the community, the small-town atmosphere, and how it was growing and bringing more businesses in," stated Tom. 
In 2018, Tom and other retired Veterans were looking for an outlet which led to the formation of the Ave Maria Veterans Association. After serving a two-year term as vice president of the association, he is now managing membership and fundraising.  
Some residents wanted to take initiative to show our town's Veterans just how much they care. One of Ave Maria's residents, Jim Soltis, donated ten flag poles, a $1,600 monetary donation, for Veterans in the community. Along with the collaboration with the Ave Maria Masters Association, the Flagpoles for Veterans initiative was formed. With the Master Association's help, flyers started circling on the neighborhood social media groups and email newsletters.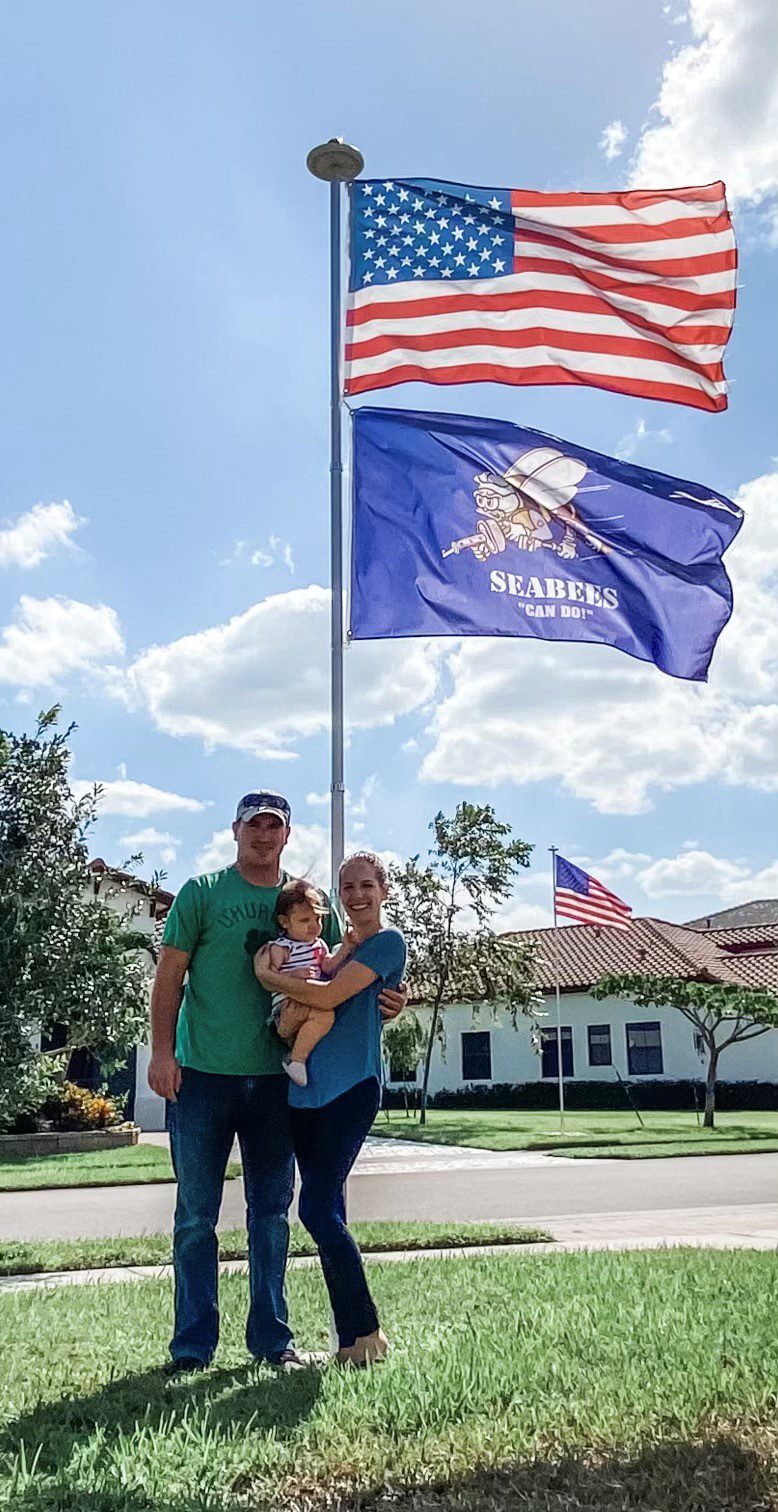 Recipient of a Flagpole
Raymond Carter was in the Naval Reserves for ten years and has been in the Air Force Reserves for the past four years. As an Ave Maria resident and active member of the Airforce Reserves, he shared his perspective on being gifted a flagpole. 
"I just want to thank the Vets Association especially Tom for putting the Flagpoles for Veterans together. I think it's very important, that we keep in touch and have the support of the Ave Maria community," shared Raymond. His wife, Kristen, and one-year-old daughter, Quinn love the new flagpole displayed on their front lawn. 
Ave Cares about First Responders  
Tom also shared how this outreach is reaching first responders in town. "With the fire station being built in Ave Maria more first responders are nearby. In addition to the Veterans in our community, we want to open this up to people wanting to donate and support our first responders," said Tom.  
Most recently, Jim donated ten more flagpoles for first responders. "I have the utmost gratitude for the men and women who died for us and who keep us safe. These individuals sacrificed a lot for us. We own them a debt of gratitude. The Flagpoles for Veterans program gave us an opportunity to show patriotism as a community and to honor our Veterans and first responders. To me, I feel that it's a privilege to be able to honor them," shared Jim regarding the program. 
Since June of this year, Flagpoles for Veterans have installed more than 150 American flags/flagpoles for Veterans and residents of Ave Maria, Florida in Del Webb Naples, Avalon Park, Emerson Park, Maple Ridge & Maple Ridge Ave Maria Estates, Silverwood, Coquina and Hampton Village.   
To find out more about the Flagpoles for Veterans program please visit the group's Facebook page or fundraising website.