A Big Kind of Hometown Christmas
Erica Fish, Ave Maria Development
As soon as garland and lights began twinkling in Ave Maria, anticipation rose among town residents, families and their guests for the annual Hometown Christmas event. A night filled with cool weather, laughter, festive contests, carolers, a parade, pictures with Santa and Mrs. Claus and dance performances by Maple Ridge residents, Ave Maria Dance Academy and The Hot Flashz were just the frosting on the cookie!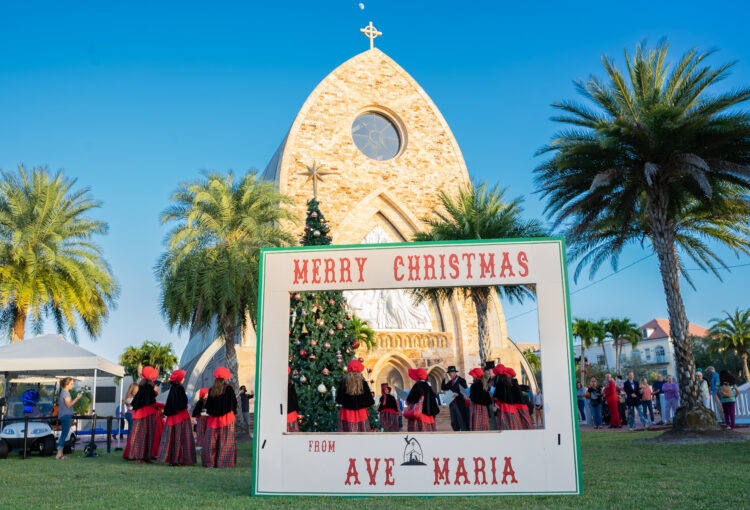 "Although Florida winters aren't White Christmases, Ave Maria's celebrations felt like a true Hallmark movie," said Regina Stano, Maple Ridge Lifestyle Director. "The specialness of this community starts with the residents who create joys that turn into everlasting memories. And such joys were experienced at this year's Hometown Christmas."
A definite highlight of the evening was the community parade at Town Center's Annunciation Circle, which became packed with hundreds of festivity-goers who rallied in support of Ave Maria University's athletes, local school bands, Collier County service personnel, businesses and town residents. This annual holiday event kicks off the holiday season activities in town, as Ave Maria's businesses hosted their own festivities throughout the month. The Pub & Grill at Ave Maria held their third annual Ave Maria Holiday Lights Trolley Tour with participants exploring the decorated homes throughout each of the neighborhoods: Avalon Park by Pulte Homes, Maple Ridge and Silverwood by CC Homes, The National Golf & Country Club by Lennar and Del Webb Naples. Oil Well Craft Beer hosted an Ugly Sweater and Holiday Cookie Baking Contest, Stella Rose Way, The Secret Ingredient, Hoja de Menta and other boutique shops organized a Christmas Boutique Crawl, OASIS The Kitchen Lounge even convinced the Grinch to meet the kids for photos and fun, followed by Kibitz N' Play inviting families for 'Cookies with Santa'.
"It's not often these days where you come across a town where the sense of community is prevalent. The town comes together for these events, and you really feel the sense of community. Ave Maria is a different kind of special where people want to know each other and create a lifestyle where their families are genuinely happy," said Donna Marquez, Ave Maria Development's Community Representative & Events Coordinator.
The Ave Maria Master Association (AMMA) planned a variety of get-togethers for residents from a Cuban Christmas Night where residents and their guests could hand roll their own Cuban cigars, enjoy live music and gorge on delicious Cuban food. Then there was 'Breakfast with Santa' at the Ave Maria Water Park where families enjoyed yummy pancake stacks and morning buffet with Santa and Mrs. Claus, followed by decorating edible arts and crafts, playing games and dancing along to the Christmas classics. Tweens and teens enjoyed a Christmas Social & Stocking Exchange where residents 14 years and older participated in an ugly sweater contest, decorated cookies and traded treat-filled stockings with one another.
"It's a great feeling to see a majority of the town's residents mixing and meeting at a variety of the events the Association puts on," said AMMA Lifestyle Director Carol DiFlorio. "Enriching the lives of people in the community is our goal and my team is happy to witness attendees enjoy all the fun."
The Ave Maria lifestyle is unique in the sense that it's more than a place to live. It's a place for neighborhood cookouts, bike rides to the local ice cream shop and kids playing outside until the streetlights flick on.
Thank you to the Ave Maria Master Association and all the volunteers and residents who made these events so memorable.
---
Stay in the know for other Family-Fun Events happening in Ave Maria!
---
Event photos by Amelia Conte Photography