GRAND OPENING OF MERCATO AT AVE, AN INDOOR MARKET PLACE
Ave Maria, FL., – February 24, 2023 – Mercato at Ave, a creative spin on an indoor marketplace, will be opening in the Publix Retail Shops in Ave Maria, FL. A ribbon cutting ceremony is planned for Saturday, March 4th at 10 a.m. Guests are welcome to experience the day shopping local and enjoying live music by Bailanow.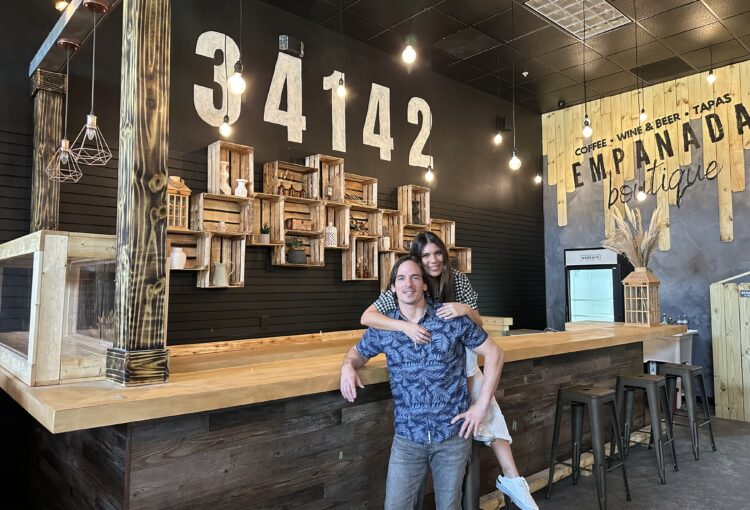 Mercato at Ave will feature 15 vendor spaces, called "casitas" offering a variety of local products such as candles, soaps, clothing, beauty supply, jewelry repair, drop off dry cleaners, fragrance station, high end sneakers, ice cream, cupcakes, and so much more. Guests can enjoy free Wi-Fi, hand-crafted coffee beverages, a wine and beer bar, lounge areas, live music events, and a mural designed for photo opportunities.
Jorge Arroyo and Reina Del Mar are the current owners of Hoja de Menta, a women's boutique in town. Arroyo custom designed the boutique as well as OASIS The Kitchen Lounge in the Town Center, and is designing Mercato at Ave. "We wanted the inspiration to be a chic country village in a very welcoming environment for the whole family to enjoy.," said Reina Del Mar.
The couple's new business inspiration came from humble beginnings where they started selling clothing at the Ave Maria Farmers Market and grew their business and are now opening a second businesses in town. "We're returning our gratitude. Our goal is to have this indoor marketplace serve as a platform for small business," said Arroyo.
There is a current waiting list of over 200 businesses. To learn more please visit www.MercatoatAve.com or email MercatoatAve@gmail.com.
ABOUT AVE MARIA, FLORIDA
Ave Maria has been named a Top 20 Master Planned Community in the United States, 2015-2022 Community of the Year, the Top Selling Single-Family Home Community in Southwest Florida, and its active adult community, Del Webb Naples, has been named a Top 20 Places to Retire. Located in southwest Florida, Ave Maria is a self-sustaining town including shopping and dining, employment opportunities, parks and recreation, and is zoned for all A-rated Collier County public schools.  At its build out, the town will include up to 11,000 residences, and 1.8 million square feet of retail, office, and business park uses in its 4,000 acres.  Ave Maria is located at the intersection of Oil Well and Camp Keais Roads in Eastern Collier County.  The main entrance, on Oil Well just west of Camp Keais, leads to the Town Center. Take I-75, exit 111, follow the signs east to Ave Maria, approximately 25 minutes. For more information, please visit  http://www.avemaria.com/ or call 239-352-3903.
###