VETERANS MEMORIAL GRAND OPENING AND DEDICATION CEREMONY IN AVE MARIA, FL
NAPLES, FL., — October 30, 2023–   Ave Maria Development and the Ave Maria Veterans Association announce the grand opening of the Veterans Memorial in Ave Maria, Florida. The public is invited to the dedication ceremony this Veterans Day on Saturday, November 11th at 11:11 a.m. located at 4840 Ave Maria Blvd, Ave Maria, FL 34142.
"Through this process, it has been incredible to witness the town come together in support of our Veterans and townspeople to make this a reality. As the developer of the town of Ave Maria, we see the value the Veterans Memorial brings to our community members," said Dave Genson, President of Development for Barron Collier Companies, developer of Ave Maria.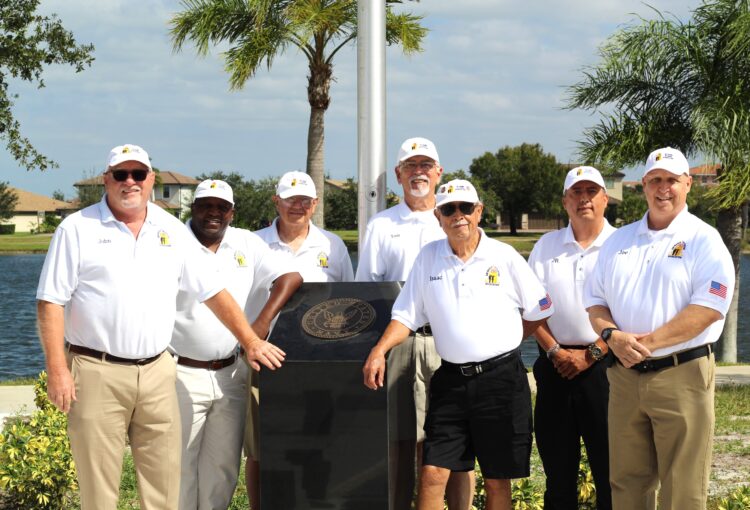 The Veteran's Memorial is supported and funded by the Ave Maria community members, Ave Maria Stewardship Community, and Ave Maria Development. The Ave Maria Stewardship Community District provided an easement on the land to help with the memorial in addition to Ave Maria Development assisted with permitting elements and some of the design, and electrical service for the memorial.
"People are just incredible here in Ave Maria. We have felt so much support by the community. It's a great feeling when people donate, especially the kids. They drop off dollars or change, it all adds up," shares Tom Schlessinger, Ave Maria Veterans Association Vice President and memorial project manager. The group has raised $140,000 throughout the years in different fundraisers, including events and the Flagpoles for Veterans program. This program is where veterans donate their time to install flagpoles for those who purchase them. 435 flagpoles have been installed throughout Ave Maria since 2020. To learn more about the Ave Maria Veterans Association please visit AveMariaVets.org.
ABOUT AVE MARIA, FLORIDA
Ave Maria has been named a Top 20 Master Planned Community in the United States, 2015-2023 Community of the Year, the Top Selling Single-Family Home Community in Southwest Florida, a Blue Zones Certified Community, and its active adult community, Del Webb Naples, has been named a Top 20 Places to Retire. Located in southwest Florida, Ave Maria is a self-sustaining town including shopping and dining, employment opportunities, parks and recreation, and is zoned for all A-rated Collier County public schools.  At its build out, the town will include up to 11,000 residences, and 1.8 million square feet of retail, office, and business park uses in its 4,000 acres.  Ave Maria is located at the intersection of Oil Well and Camp Keais Roads in Eastern Collier County.  The main entrance, on Oil Well just west of Camp Keais, leads to the Town Center. Take I-75, exit 111, follow the signs east to Ave Maria, approximately 25 minutes. For more information, please visit  http://www.avemaria.com/ or call 239-352-3903.
###